Overview
Looking for a snack? All you need to do is knock. This 706L French Door Fridge from LG features the Instaview Door-in-door function. Knock twice on the door and the transparent window will reveal what's inside your fridge. This smart feature helps to minimise temperature fluctuations by reducing the time the door is left open when you're looking for something. In addition, the ultra-efficient Surround Cooling system delivers outstanding air circulation thanks to strategically placed air vents located inside your fridge. By providing your food with ideal cooling conditions, you can enjoy fresh food for longer.
This fridge provides a generous capacity, able to provide storage space for busy households and large families. The French door configuration makes it easy to access what's inside and comes in handy when packing away items after a big supermarket shop. You can organise your food and beverages with ease using the spacious compartments and intelligent interior configuration. If you need to make space for awkwardly shaped items, the retractable shelf enables you to make room for tall or large items—perfect for those who enjoy entertaining.
Combining innovative features, exceptional engineering, and a stunning black stainless steel finish, this LG 706L French door fridge is an outstanding option to meet and surpass the needs of a modern household.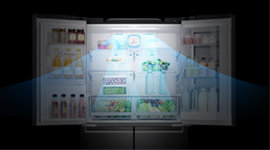 FACTORY SECONDS PRODUCT
NEVER USED BUT COULD HAVE MINOR COSMETIC DAMAGE AS IN A SCRATCH OR DENT
12 MONTH WARRANTY